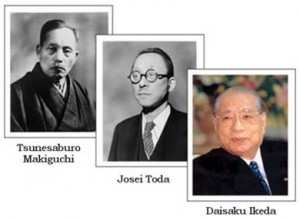 The lay association of believers of Nichiren Buddhism in Japan was established in 1930 by Tsunesaburo Makiguchi, an educator and author who was passionately dedicated to education reform in his country. Makiguchi propounded the theory of value, a view that value creation is uniquely human activity and constitutes the essence of being human. He found in Nichiren's philosophy the spiritual underpinnings for his philosophy of value-creating education, and together with young teacher Josei Toda, they committed themselves to the Buddhist practice. The founding organizations named Soka Kyoiku Gakkai (Value Creating Education Society) was established as a society for educators. Members focused on the interface between Buddhist principles and Makiguchi's theory of value. During Second World War, Makiguchi and Toda, together with leaders of the Society, were arrested as "thought criminals" in 1943. Despite intense brutality and interrogation, the two did not compromise with State Shintoism though the rest abandoned their faith. The Society disintegrated under the militarist government's pressure, and Makiguchi died in imprisonment at the age of 73 on November 18, 1944. Weeks before Japan's surrender, Toda was released on July 3, 1945. He immediately set about the task of rebuilding the organization and renamed it the Soka Gakkai (Value Creating Society) with the belief that its mission should not be confined to the field of education but to the betterment of society.
Toda established a solid foundation of more than 750,000 membership households for the Soka Gakkai and inspired it with a vision of a peaceful world achieved through the abolition of nuclear weapons. He was succeeded by Daisaku Ikeda who assumed third presidency on May 3, 1960 and has since dedicated himself to fulfilling Toda's vision of a peaceful world.
On May 3, 1960, Daisaku Ikeda was inaugurated Third President of Soka Gakkai and immediately set about his plans for worldwide propagation. In October that year, President Ikeda took his first overseas guidance trip, to North and South America. Following year, he visited Asia in January and Europe in October.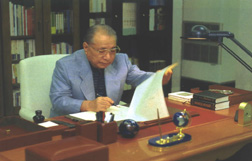 On January 26, 1975, the Soka Gakkai International (SGI) was established, with Daisaku Ikeda as president. SGI is now a worldwide association of members who pursue the common goal of world peace with the commitment for peace, culture and education, based on the Buddhist principle of respect for dignity of life.
The Soka Gakkai and the SGI have created a widespread propagation movement of unprecedented scale. In the 45 years since Nichiren Buddhism was propagated outside of Japan by the laity under the leadership of President Ikeda, Nichiren Buddhism has now taken roots in 190 counties and territories throughout the world where there is SGI-consituent organisation. This is no simple achievement in view of the diverse cultures, customs and traditions of these many places.
In recognition of his efforts and his leadership in the promotion of the peace, culture and education movement based on the humanistic teachings of Nichiren Buddhism, President Ikeda has been conferred over 750 honorary citizenships from various countries and 345 honorary doctorates from various institutions around the world.
In addition, many awards and commendations have also been conferred on SGI organizations in various countries for outstanding contribution to their country and the people. These awards and recognition reflect the great trust and respect that members of the SGI organizations and President Ikeda had gained in numerous countries throughout the world.